Looking to add an extra touch of elegance and charm to your garden? Look no further than windchimes! These seemingly simple metal pieces can bring surprising beauty and ambiance to your outdoor space. But not all chimes are created equal. In this blog, we take a deep dive into the best types of windchimes for your garden. From how to choose the right material to getting the perfect sound quality - we've got you covered. So whether you're looking for soothing melodies or energetic tunes, click and learn all you need to know about choosing the perfect windchimes for your outdoor oasis!
Bertie's Guide Section
Your Guide for Selecting Wind Chimes
Wind chimes have been used for centuries and in various cultures as instruments for music and as decorative outdoor accents. The soothing and peaceful sound created by wind chimes can bring an incredible amount of serenity to your outdoor space. But what should you consider before investing in a wind chime? Interested in a melody that sounds like a bird?  Want a church bell sound with peaceful, resonant tones?  This guide will take you through everything you need to know to choose the perfect wind chime.
Types and Uses of Wind Chimes
Wind chimes date back to ancient times in various cultures such as Roman, Greek, and Chinese. In Feng Shui, wind chimes are used to promote positivity and balance in the environment. They are also used to ward off evil spirits and promote positive energy. There are various types of wind chimes available such as tube, bell, and spiral. Wind chimes can be used for multiple purposes, such as:
• Music creation
• Decoration
• Meditation
• Spiritual purpose
Materials Used in Making Wind Chimes
Wind chimes can be made of different materials such as bamboo, metal, glass, ceramic, and more. Each material produces a distinct sound, and some are more durable than others. The manufacturing process also affects the sound quality produced by the wind chime. To ensure that your wind chime lasts a long time, consider these materials:
• Bamboo: produces a soft sound and is excellent for the environment as it is an organic material.
• Metal: produces a loud sound and lasts long.
• Glass: produces a bright and crisp sound.
• Ceramic: produces a muted sound but is aesthetically pleasing.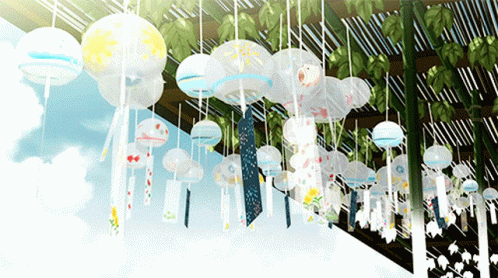 Sound Quality
The sound quality resulting from your wind chime depends on numerous factors such as the length and thickness of the tubes or the number of bells. If a wind chime is made too thick or too long, it might produce unpleasant and jarring sounds. On the other hand, shorter tubes produce higher notes and more delicate sounds.  A good thing to remember is that the smaller the chimes, the lighter and higher the pitch of the chime will be. The larger models will have deeper tones  that are perhaps more soothing.
Corinthian Bells Windchimes by Wind River
Corinthian Bells by Wind River are excellent options if you are looking for high-quality wind chimes. These wind chimes come in various lengths, and each length corresponds to a specific note on the pentatonic musical scale. The longer the tube, the lower the note. Shorter tubes produce higher notes.
The Corinthian Bells are made of high-grade aluminum, which ensures that they will last for years. They are available in different colors such as Copper Vein, Patina Green, and Midnight Blue. The different colors make it easy for you to pick the one that will complement your outdoor space.
Reviews of Corinthian Bells Windchimes
It is essential to read reviews when choosing wind chimes, and Corinthian Bells reviews are numerous and consistently positive. You will find reviews of Wind River Corinthian Bells on various e-commerce websites such as Amazon. Reading reviews will help guide you to choose the perfect wind chime for your garden.
In conclusion, choosing the right wind chime depends on your preferences and the ambiance you want to create in your garden. Whether you want an instrument to create music or a decorative piece, you can't go wrong with a wind chime. With this guide, you can confidently select the perfect wind chime to complement your outdoor oasis's beauty.
Bertie's Product Review
How We Chose The Corinthian Bells Windchimes
Are you feeling overwhelmed by all the different wind chime styles and options available on the market? Are you struggling to find a quality wind chime that is perfect for your garden? Don't worry, we've got you covered!
Our in-depth reviews provide readers with valuable information on the materials used, sound quality, price and aesthetics of each wind chime. We take the guesswork out of finding the perfect wind chime for your needs, so you can save valuable time and make a confident purchase.
So, if you're ready to enhance the beauty of your garden with the perfect wind chime, check our out guide and review below.  You won't be disappointed!
We Chose Wind River's Corinthian Bells Because:
When it comes to finding the perfect wind chime for your garden,  Corinthian Bells by Wind River may just be your answer. These exquisitely handcrafted instruments are designed and crafted in Virginia from quality materials sourced from US suppliers.
Corinthian Bells feature rust-proof aluminum domes, pipes, and wind sails. The tubes are hung from a braided nylon cord attached to a pin inside the pipe. With centrally pinned chimes, the tubes can keep resonating no matter which way they move.
Corinthian Bells wind chimes have strikers made of Ultra-High Molecular Weight (UHMW) plastic, which is a heavy and soft material. The use of this material helps to create the chimes' rich and mellow sound.
Plus, with a five-year warranty against defects in materials and craftsmanship, customers can rest easy knowing their purchase is protected.
The unique design of Corinthian Bells Windchimes complements any home or patio with its contemporary lines and classic profile. Its circular wind sail is specifically sized to avoid hitting the lower pipes, and its curved dome top protects it from the elements. Each chime also comes with a beautiful presentation box, making it an excellent housewarming, anniversary, or wedding gift for someone special. So if you're looking for the perfect wind chime for your outdoor oasis, look no further than Corinthian Bells Windchimes. You won't be disappointed!
You can select from a range variety of colors for your Corinthian Bells wind chimes. There are eight powder-coated finishes available:
Neutrals like Black, Copper Vein, and Silver Vein
Ruby Splash, Plum, or Midnight Blue offer a pop of color
Patina Green or Green will would work perfectly to blend in with your outdoor environment.
Pictured immediately below are close-ups of detailed images of the Corinthian Bells.  These images are in Midnight Blue color but are typical of all the entire collection of Corinthian Bells.
Below, we will talk about five Wind River chimes of various sizes ranging from 27" to 50", each producing a different pentatonic scale. The images shown are of each chime's sails of different colors.  Each size reviewed is available in all of the nine colors previously mentioned.  Wind River also offers longer lengths in the Corinthian Bells, but we did not review those.  You can easily find the longer lengths by clicking on any of the buttons below and then putting that length into the search bar at Amazon.
Corinthian Bells by Wind River
Check Price on Amazon!
The Corinthian Bells 27" chime is tuned to a pentatonic scale of C. The chime is measured from the hook to the bottom 27". The longest tube is 12.5" and the diameter of the tubes is .75". The six tubes are all hand-tuned and tested for clarity, providing a full and rich sound that will bring peace and tranquility to your surroundings. With its compact size, it's perfect for even the smallest of areas, making it an ideal gift for friends and family. Enjoy its soothing tones and create a relaxing atmosphere with the Corinthian Bells 27" chime.
Corinthian Bells by Wind River
30 Inch Chime - Copper Vein
Check Price on Amazon!
The pentatonic scale of A on the 30-inch chime will fill your garden with beautiful, soothing tones that are sure to be enjoyed by all who hear it.
As with all of the Corinthian Bells, each pipe is hand-tuned and individually tested for clarity and pitch before assembly, so you can be sure you're getting the best sound possible.
With 0.875" diameter aluminum tubes, this chime will stand up to the elements and still look great season after season. While this chime measures 30" from the top of the hook to the bottom of the striker, the longest tube is 15", making it an impressive addition to decor on your porch or patio.
Corinthian Bells by Wind River
36 Inch Chime - Ruby Splash
Check Price on Amazon!
This beautiful 36-inch Corinthian Bells wind chime is tuned to a pentatonic scale of E and provides an elegant, full-bodied chord. The thick-walled aluminum tubes measure 1" in diameter with the longest tube measuring 18.5". This stunning piece is sure to add a touch of charm to your porch, garden, or patio.
Corinthian Bells by Wind River
44 Inch Chime - Midnight Blue
Check Price on Amazon!
The 44" Corinthian Bells chime from Wind River will bring calming tranquility to your outdoor space. Crafted with six thick-walled 1.25" aluminum tubes, this chime is tuned to a pentatonic scale of C and produces a full, rich chord.  (The 44" is from the top of the hanger to the bottom of the striker.)
With its longest tube measuring 23 inches, this chime is sure to add a touch of elegance and style to any outdoor area. Bring home the serenity that only Wind River's Corinthian Bells chime can provide.
Corinthian Bells by Wind River
Check Price on Amazon!
The 50" Corinthian Bells wind chime is the perfect addition to your outdoor space. This chime is perfectly tuned to an "A" on the pentatonic scale creating a rich and full chord with each pipe being hand-tuned for clarity and pitch.
With an overall length of 50", this elegant piece can be hung from your front porch, yard, or garden. The 1.5" diameter thick walled aluminum tubes create a beautiful effect when the wind blows. The longest tube measures 27.75".  An ideal gift for any occasion, this wind chime will bring joy for years to come!
  Bertie's FAQ & Guide Section
Are you looking to add some calming tones and a serene atmosphere to your outdoor space and still have questions? Whether you're searching for the perfect gift, or adding a beautiful touch to your own home, the Corinthian Bells provide beauty, quality, and a rich sound. Check out our FAQ section for more information on these stunning wind chimes and find the perfect one for you!
What on earth is the pentatonic scale?
The pentatonic scale is a musical scale that consists of five notes per octave. It has been used throughout history in different cultures and musical genres. What sets it apart is its simplicity, as it contains only five notes. Specific notes can be tuned with the length and diameter of wind chimes. The five notes in a pentatonic scale are generally the 1st, 2nd, 3rd, 5th and 6th notes of a major scale.
What do wind chimes symbolize?
Wind chimes are often seen as a popular symbol of good luck and good fortune. They can also represent harmony and balance in life, with their soothing sounds creating a peaceful atmosphere.
What type of wind chimes are best?
The best type of wind chimes for your home depends on personal preference. Some people prefer large, deep-toned wind chimes, while others prefer smaller, lighter tones. Ultimately, it's a matter of finding the chime that resonates with you and fits in with the aesthetic of your home well as giving you a peaceful sound.
Do wind chimes keep birds away?
Wind chimes can be an effective method of deterring birds from entering your garden. The sound of wind chimes can startle and confuse birds, making them less likely to stay in your area. Additionally, the movement of the wind chimes may create shadows that also discourage birds from settling nearby.
Which direction do you hang wind chimes?
It is believed that hanging wind chimes in the east-southeast direction brings good luck. However, this isn't a hard and fast rule, as some people may find that other directions work best for them. Ultimately, it's important to choose what feels right for you.
I have several types of wind chimes. How do I pair them?
When pairing different types of wind chimes, it is important to consider the overall tone and atmosphere that you would like to create. Wind River (makers of Corinthian Bells) recommends matching your chimes that share the same tonal key. (We provided you with the different petatonic notes of each chime above.) They further state that "Two chimes that share the same scale will naturally harmonize, regardless of size and pitch."
How do I maintain my wind chimes?
To maintain your wind chimes, check for any frayed pieces of material or bent rods regularly. You can also spray the chimes with an all-purpose cleaner to remove dirt and debris. Be sure to properly dry them before hanging them outside again to avoid rusting. Wind River suggests 3 simple tips: clean with soap and water; remove chimes during severe weather; hang chimes from something that can support its weight and avoid hanging too close to other objects like walls or poles that can cause damage during windy weather.
What are the benefits of having wind chimes in my garden?
Wind chimes can provide several benefits to your garden. They create a soothing and peaceful atmosphere, and their gentle melodies can help to reduce stress and promote relaxation. Additionally, they can deter unwanted birds and animals from entering your garden area.
Which Corinthian Bells For You?
Wind chimes are a beautiful and valuable addition to any garden. Not only do they add a touch of elegance to your outdoor space, but listening to their calming melodies can also provide stress relief and relaxation. With the Corinthian Bells Wind Chimes by Wind River, you can bring the perfect balance of aesthetics and sound quality to your garden.
Purchasing products like wind chimes is an investment in your well-being and quality of life because of the sheer joy in their beautiful sounds. And the good news is that finding the perfect wind chime for your garden is now easier than ever. Plus, if you are an Amazon Prime member, you can get them shipped quickly without paying for shipping charges.
Thank you for taking the time to learn about wind chimes. We hope this guide has been helpful as you navigate the world of wind chimes.
Thanks for stopping by our bee hive!
Bertie
Each product we reviewed was independently selected by our team, and all opinions in this article are our own. As an Amazon Associate we earn from qualifying purchases.  We stay in business by receiving a small share of sales from the links on this page should you decide to buy something.  
Before you leave, please subscribe, so you will be the first to see reviews you can rely on.