Attention, homeowners and kitchen aficionados! If you have ever experienced the fear and danger of a kitchen fire, then you know how important it is to take kitchen safety seriously.
According to the National Fire Protection Association, cooking equipment accounts for nearly 50% of all home fires. That's where small kitchen fire extinguishers come in.
You may be thinking, do I really need one? The answer is a resounding YES! Fire extinguishers are essential for any home kitchen and can prevent disastrous consequences.
In this blog post, we'll give you the inside scoop on small fire extinguishers and the best options for your kitchen so that you can make an informed decision. So, read on and discover why every kitchen needs a fire extinguisher, and how to choose the right one for your home. Don't wait until it's too late! Let's get started.
---
Bertie's Guide to Kitchen Fire Extinguishers
Our guide below will provide you with a clear understanding of the different grades of fire extinguishers and what you need to look for when choosing the best kitchen fire extinguisher for your home.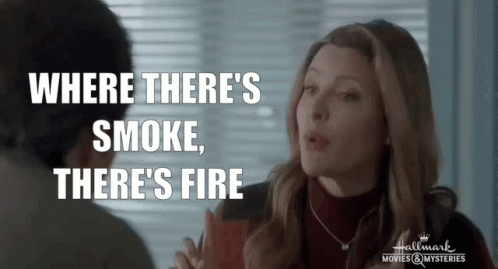 Fire extinguishers of today are not your extinguishers of yesteryear. Today they boast varied capabilities and have been created to ensure they can snuff out a range of fire types. Thankfully manufacturers have produced the ideal kinds of extinguishers for various scenarios so that you can feel confident in your ability to handle any blaze that may arise. But be sure to familiarize yourself with the different class rankings of fires, what likely causes them and which fire extinguisher may be best.
Here is a quick classification of fires by UCLA Health.org:
Class A: Everyday materials such as paper, wood, clothing and some plastics are all combustible.
Class B: In order to effectively extinguish flammable liquids including alcohol, ether, oil, gasoline and grease, smothering is the best approach, although this may be difficult as they spread fast.
Class C: Electrical equipment, appliances, and wiring should never be dowsed with water to prevent electrical shock - using a non-conductive fire extinguisher is the best way to stay safe.
Class D: Certain flammable metallic substances such as sodium and potassium.
Class K: Kitchen fires, which are often caused by cooking grease and oil that is left in pans or skillets, have the potential to spiral out of control. Unfortunately, water can make these even worse - so it's important to take caution when dealing with these types of emergencies.
For more information on kitchen fire safety, please read our article: Essential Tips for Fire Safety.
---
Our Product Review Section
How We Chose the Best Small Kitchen Fire Extinguishers
Are you on the lookout for the best fire extinguisher to safeguard your home kitchen but feeling overwhelmed by the all of the options available in the market? You are not alone! There are so many small kitchen fire extinguishers out there that choosing the right one for your needs can prove to be a daunting task.
Thankfully, our expert reviewers have done all the heavy lifting and have reviewed the best products available in the market.
We understand that choosing the right fire extinguisher can be a matter of safety and peace of mind, which is why we have taken the time to review each extinguisher, evaluating factors such as ease of use, effectiveness, and affordability.
Stay safe and prepared with the help of our expert reviews.
StaySafe 5-in-1 Fire Extinguisher
Lightweight and Recyclable!
Check Price on Amazon!
We Chose This One Because:
The StaySafe 5-in-1 Fire Extinguisher is an Amazon's Choice product that provides powerful, compact protection against fires of all kinds. This lightweight recyclable plastic aerosol extinguishes five different types of fire: gasoline, cooking oil, paint, electrical and paper/wood.
Ideal for home or office use, it is easily stored and can be quickly deployed to fight fires of all kinds. With an easy-to-use design, the StaySafe 5-in-1 Fire Extinguisher is a reliable, efficient way to protect your family, home and office against dangerous fires. Keep your loved ones safe with this all-in-one extinguisher!
What's Good To Know!
The StaySafe 5-in-1 Fire Extinguisher is a high quality, reliable product that measures 8.31 x 2.22 x 2.13 inches in size and has a 3-year expiry date. Its small, one time use size makes it suitable to have two or more on hand at all times. Independent BSI testing has confirmed its ability to extinguish 5 types of fire, including Electrical, Textiles, Paper/Card, Cooking Oil, and Petrol/Diesel. This product provides an added layer of safety for your home or workplace.
---
Ougist 2-Pcs Fire Extinguisher Set
Non-Toxic, Biodegradable Formula!
Check Price on Amazon!
We Chose This One Because:
This Ougist 2 Pcs Fire Extinguisher Set is an Amazon's Choice product and is an ideal way to protect your home in emergencies. Its non-toxic, biodegradable formula means it won't leave any residue or cause a mess.
The fire extinguishers are perfect for putting out fires caused by solid materials, combustible liquids, electrical materials, cooking oils and other A, B, E and F/K type small fires.
They make a great addition to your home safety equipment, as they can help stop fires before they become bigger disasters. Get a pair of these extinguishers today and keep your family safe!
What's Good To Know!
The Ougist 2 Pcs Fire Extinguisher is a compact and reliable fire safety solution. With a height of 11.7 inches, a width of 3.3 inches, and 13 foot spraying distance, it offers ample protection in any circumstance. This product also comes with a 10-year product warranty for added peace of mind.
---
First Alert EZ/Kitchen5 Combo Package
Added Protection with a Bundle (See Kitchen5 Below)
Check Price on Amazon!
We Chose This One Because:
The First Alert Combo Package is the perfect addition to any home! This package includes two First Alert EZ Fire Spray Portable Fire Extinguishers, providing 32 seconds of firefighting time - four times longer than traditional extinguishers.
Additionally, included is the Kitchen5 Fire Extinguisher which is UL rated 5 B:C and features a durable metal head with a compact, attractive design that can easily fit in a cabinet or on the included mounting bracket. With this package, you will be equipped to handle any emergency with ease and confidence!
What's Good To Know!
This First Alert Combo Package provides the ideal solution for home fire protection, with an EZ Fire Spray suitable for fighting paper, fabric, wood and electrical fires, as well as a Kitchen5 containing a sodium bicarbonate extinguishing agent designed to tackle flammable liquid and electrical fires.
The bundle is easy and convenient to use, with the EZ Fire Spray , offering the best protection against a variety of fires. This combo package provides an easy and cost-effective way to ensure your family's safety by providing fire protection in any home environment.
---
Emergency Fire Blanket for Home and Kitchen
Check Price on Amazon!
We Chose This One Because:
This Emergency Fire Blanket is a must-have for any kitchen or home. It is an Amazon best seller and comes highly recommended to keep you safe in the event of a fire. Unlike fire extinguishing spray, this blanket cuts off oxygen with no mess, making it the perfect solution for keeping people protected while camping, cooking, grilling, smoking, boating or in a car. The blanket is fire-resistant and easy to use - simply cover the source of the fire with the blanket to contain it quickly and safely. Don't let a small fire turn into something more serious - put your safety first with this reliable Emergency Fire Blanket!
What's Good To Know!
This Emergency Fire Blanket is perfect for any home or kitchen, providing an effective and easy-to-use solution against fire. Simply pull down the tabs on the blanket, spread it over the flame to suffocate it, then turn off the heat source. Crafted from 100% fiberglass flame retardant fabric, this product provides reliable protection against fire. With this Emergency Fire Blanket, you can feel secure knowing that you have a reliable solution for fire emergencies.
---
Bertie's FAQ Section on Kitchen Fire Extinguishers
A kitchen fire extinguisher is essential to keeping your family safe in the event of a blaze. To help you make the right choice when it comes to selecting an extinguisher, we have compiled this list of FAQ's so you can be confident in choosing the best product for your home. Take a look and get all of the information you need to make the right decision.
What is the best type of fire extinguisher to use in the kitchen?
The best type of fire extinguisher to use in the kitchen is a Class K fire extinguisher. Class K fire extinguishers are specifically designed to put out fires involving cooking oils, animal fats, and vegetable fats commonly found in kitchens. Commercial kitchens require a Class K.
How do I determine the size of the fire extinguisher I need for my kitchen?
To determine the size of the fire extinguisher you need for your kitchen, you should consider the size of your kitchen and the potential fire hazards present. A common rule of thumb is to have at least one fire extinguisher per 200 square feet of kitchen space.
Can I use a water-based fire extinguisher for a grease fire?
It is not recommended to use a water-based fire extinguisher for a grease fire in the kitchen. Water can cause the grease to spread and the fire to intensify. Instead, use a Class K fire extinguisher or baking soda to smother the flames. The Kitchen5 review above has sodium bicarbonate as a fire extinguishing agent good for grease fires.
Do I need to replace my kitchen fire extinguisher every year?
Kitchen fire extinguishers typically have a shelf life of 5-15 years, depending on the manufacturer. However, it's essential to check the manufacturer's recommendations and inspect your fire extinguisher regularly to ensure that it's still in proper working condition.
Can I use a fire blanket instead of a fire extinguisher for a kitchen fire?
While a fire blanket can be effective in smothering a kitchen cooking fire, it's not a replacement for a fire extinguisher. A fire blanket can only be used once, and it's not designed to put out all types of fires. It's recommended to have both a fire extinguisher and a fire blanket in the kitchen for maximum safety.
Are rechargeable fire extinguishers worth the trouble?
Rechargeable fire extinguishers can be worth the trouble if you want to save money in the long run and reduce waste. Rechargeable fire extinguishers can be serviced and refilled after use, which makes them a more sustainable option compared to disposable fire extinguishers that need to be discarded and replaced after use.
Do I really need a Class K fire extinguisher for residential cooking equipment?
Having a Class K fire extinguisher for residential cooking equipment is highly recommended as it's specifically designed to handle fires involving cooking oils, animal fats, and vegetable fats which are common in kitchens.
If I can only get one, what do you recommend as an only fire extinguisher?
If you can only get one fire extinguisher, we recommend getting an First Alert Combo Package.These fire extinguishers are suitable for a variety of fires, including fires caused by wood, paper, liquids, and electrical equipment, which are common fire hazards in homes.
Where should I store my kitchen fire extinguisher?
Your kitchen fire extinguisher should be stored in an easily accessible location that's away from potential fire hazards, such as stovetops and appliances. A good rule of thumb is to store your fire extinguisher in a visible and accessible place, such as under the sink or mounted on the wall.
How often should I inspect my kitchen fire extinguisher?
If you have one of the larger ones with a pressure gauge, you should inspect the immediate pressure status every 30 days to ensure that it is still fully charged and it's in good working condition.
---
Which One For You?
In conclusion, having a reliable home fire extinguisher in your kitchen is essential for preventing and putting out fires. Remember to always use the appropriate type of fire extinguisher. And don't forget to keep your fire extinguisher in an easily accessible location to quickly extinguish a fire. By following these tips, you can help keep your kitchen and loved ones safe from fires so you don't have to call your local fire department! Stay prepared, and stay safe!
Thanks for stopping by our bee hive and reading our blog on small kitchen fire extinguishers!
Bertie
Each product we reviewed was independently selected by our team, and all opinions in this article are our own. As an Amazon Associate we earn from qualifying purchases. We stay in business by receiving a small share of sales from the links on this page should you decide to buy something.
💡
Would you like to learn how to become a brand ambassador and write blogs about your favorite products? If so, just visit
BloggingBrander.com
to learn how ordinary folks make money on the internet by starting their own product review blog!
Before you leave, if you haven't already done so, please subscribe so you will be the first to see reviews you can rely on.
Before you leave, please subscribe, so you will be the first to see reviews you can rely on.