When it comes to the epitome of outdoor relaxation, few pieces of furniture have made a mark as enduring as the Adirondack chair. With its unique design, deep seat, wide armrests, and characteristic high back, this iconic piece of furniture has weathered the test of time, evolving while keeping its essence intact.
---
The Origins of the Adirondack Chair
A bit of history of the Adirondack chair tells us that it was originally invented by Thomas Lee in 1903 while vacationing in Westport, New York, nestled in the heart of the Adirondack Mountains. The story goes that Lee was looking to create a comfortable outdoor lawn chair for his summer home. After various trial and error iterations with a single plank of wood, he eventually created the original Adirondack chair - or as it was originally known, the "Westport plank chair."
Lee's final design was distinct, featuring a straight back and seat set at a slant to sit better on the area's hilly terrain. This innovative design was patented in 1905 by Harry Bunnell, a local carpenter and friend of Lee. Unbeknownst to Lee, Bunnell saw the commercial potential of the design, manufactured the chairs for the next twenty years, and called them "Westport chairs."
---
What is unique about Adirondack chairs?
The Adirondack chair's unique design is easily recognizable. It typically comprises 11 flat wooden boards, with a straight back and wide armrests. The original design by Lee was slightly reclined, offering a comfortable seating solution ideal for hilly terrain.
One of the key features that make these chairs unique is their adaptability. While originally designed for comfort on uneven, mountainous terrain, their wide armrests and comfortable incline make them perfect for flat surfaces, as well, such as patios, decks, and beachfronts.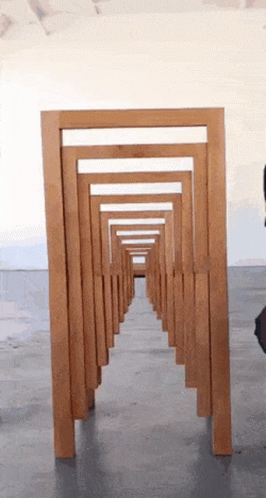 A Deeper Dive into Design
Indeed, the iconic Adirondack chair design is more than just aesthetically pleasing; it is a well-thought-out amalgamation of function and comfort, seamlessly blended into one timeless piece of outdoor furniture. Its signature broad armrests are not just a design element but a practical feature. These armrests offer ample space to rest your arms, hold a drink, or place a book, adding a touch of convenience to your relaxation.
In addition, the distinctive slanted seat and high back are inherently ergonomic, accommodating the natural curves of the spine. The seat incline permits effortless rising from the chair, a feature particularly beneficial for elderly users or individuals with limited mobility. Moreover, the high back provides substantial support for the back and neck, making it easy to spend hours lounging in the chair without discomfort.
While the traditional Adirondack chair is crafted from wood, modern versions have embraced various materials like plastic, polywood, and even metal. Despite these changes in material, the essence of the original design is invariably preserved. From a historical single-plank prototype to its contemporary descendants, the Adirondack chair's unique design continues to offer unparalleled comfort and utility, making it a beloved choice for outdoor leisure.
No matter the setting - a serene lakeside, a vibrant beach, a cozy patio, or a rustic mountain cabin - the Adirondack chair fits right in, upholding its reputation as the quintessential outdoor chair through a century of evolution.
---
The Modern Adirondack Chair: A Century of Evolution
Over the last century, the Adirondack chair today has seen numerous modifications, but its core design remains unchanged. The original "Westport chair" has evolved into the modern Adirondack chair, characterized by a rounded back and contoured seat, providing even greater comfort than the original design.
Where the initial Adirondack chair was made from a single cut of wood, modern versions have been manufactured from a variety of materials, ranging from natural wood to synthetic materials like plastic and resin, and even metal. This shift in materials reflects changes in consumer needs for durable, low-maintenance outdoor furniture. Check out our article that dives deeper into the construction of the Adirondack chair.
The evolution of the Adirondack chair also includes the introduction of the "tall" Adirondack chair. These taller versions became popular as they provide a better view when used on a balcony or deck, along with making it easier for individuals to sit down and stand up.
---
The Rising Popularity of the Adirondack Tall Chair
The Adirondack tall chair is a more recent adaptation, becoming increasingly popular due to its added height and increased visibility. This version maintains all the classic features of traditional Adirondack chairs — the wide armrests, high back, and reclined seat — but sits higher off the ground. This elevated design offers an improved vantage point, making it an excellent choice for overlooking gorgeous landscapes from a deck or a balcony.
The rise in popularity of Adirondack tall chairs can be attributed to several factors. As urban living spaces become more common, balconies in apartment buildings have become cherished outdoor spaces, and the tall Adirondack chair is ideally suited for these settings. The chair's height allows residents to enjoy a good view over balcony railings, enhancing their outdoor living experience. Moreover, their elevated design makes it easier for people to stand up and sit down, a feature that is particularly beneficial for older adults or individuals with mobility challenges.
In addition, the Adirondack tall chair has become a sought-after piece for outdoor patios. Due to their height, these chairs allow users to have a clear line of sight over other outdoor furniture, making socializing and conversing easier in larger gatherings.
Given the ongoing trend towards creating comfortable and functional outdoor living spaces, Adirondack tall chairs are now seen as a stylish and practical option. Their classic design combined with modern modifications caters to contemporary needs, ensuring the Adirondack chair's place as a timeless piece of outdoor furniture continues to be secure. They truly epitomize the perfect blend of comfort, functionality, and style, and their popularity is only set to grow in the years to come. If you're looking for new patio furniture, check out our review article on the best Adirondack High Table and Chair Sets around!
---
Conclusion
The Adirondack chair has withstood the test of time, becoming an iconic symbol of comfort and relaxation. As it has evolved, it has retained the charm and functionality that made it popular in the first place while adapting to the changing needs of consumers.
From the heart of the Adirondack mountains to patios and decks around the world, this humble chair's journey reflects a century of innovation in outdoor furniture design. The timeless appeal of Adirondack chairs, coupled with their adaptability and evolving designs, ensures they'll remain a favorite for years to come.
As we continue to explore the evolution and popularity of Adirondack chairs, it's worth noting that they are often paired with high-top tables to create a complete outdoor seating solution. In our article, "Adirondack High Top Table and Chairs: the New Black in Patio Decor," we delved into some top-rated sets that have caught the attention of homeowners and design aficionados alike.
High-top tables, like the Adirondack tall chairs, offer an elevated perspective, making it easier to enjoy views over balcony railings or patio barriers. They contribute to an increased sense of space and openness, enhancing the overall outdoor experience. When paired with the Adirondack tall chairs, they form a harmonious ensemble that not only meets practical needs but also adds a touch of elegance to the setting.
Our article particularly highlighted sets composed of eco-friendly and durable materials, reflecting the modern consumer's desire for sustainable and long-lasting products. These factors further cement the position of tall Adirondack chairs as a favored choice in contemporary outdoor living solutions.
So, whether it's for a quiet evening of relaxation, a social gathering, or a family meal under the stars, Adirondack chairs truly encapsulate the spirit of comfortable, stylish, and functional outdoor living. As the Adirondack chair continues its journey of evolution, its enduring appeal is a testament to its timeless design and versatility.
Thanks for stopping by our bee hive and reading our informative article about the evolution of the amazing Adirondack chair!
Check out our article on the materials that go into the construction of these amazing chairs plus a "how to" if you are a DIYer and want to tackle finishing one yourself:
Bertie
Each product we reviewed was independently selected by our team, and all opinions in this article are our own. As an Amazon Associate we earn from qualifying purchases. We stay in business by receiving a small share of sales from the links on this page should you decide to buy something.
💡
Would you like to learn how to become a brand ambassador and write blogs about your favorite products? If so, just visit
BloggingBrander.com
to learn how ordinary folks make money on the internet by starting their own product review blog!